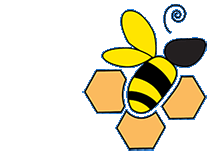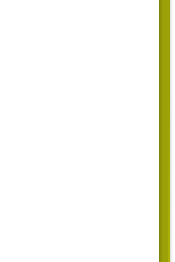 If you're a new beekeeper or simply want to expand your apiary, you'll probably want to consider one of our complete Starter Kits. Each kit comes standard with our specially-designed Screened Bottom Board, one Deep Brood Box, one Honey Super, a vented Inner Cover, and our vented, peaked Garden-style Outer Cover.

Keep in mind that we're always happy to customize a kit for you, whether you'd like more boxes or perhaps you'd like to use all Medium boxes (aka honey supers) instead of deeps and mediums. We are always happy to work with you to build the perfect kit for your needs.

While each piece is hand-crafted and comes fully assembled with finish applied, and is ready to use, we have a variety of options for your choice of wood and also how you'd like it finished. Below are some of our current offerings: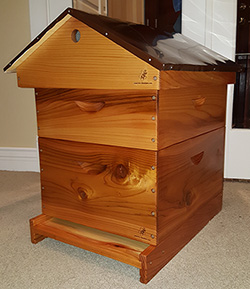 Our Premium hive kit is hand-crafted from Vancouver Island grown Western Red Cedar, which has been sustainably harvested and custom milled just for Bee Furniture. The wood often comes from old-growth trees that must be felled for safety reasons, and we work with a number of mills to ensure that we only get the best pieces of wood. We then slowly dry it over a period of months to minimize checking, before planing it to the correct thickness and begin crafting your kit. Once everything is assembled, we sand each piece carefully by hand, and apply no less than four coats of hand-rubbed, bee-friendly tung oil for a beautiful, natural, long-lasting finish that is completely non-toxic.

Our roofing material of choice is aluminum roof flashing, which we usually are able to offer in either a polished silver (natural aluminum colour), or a dark brown. The material is the same, but comes with a powder-coated, long-lasting brown pait applied at the factory. Both options will ensure that your Bee Furniture roof will be rust-free and will keep the bees protected from wind and rain for many years.

A complete 5-piece Cedar hive kit is available for $375 plus taxes.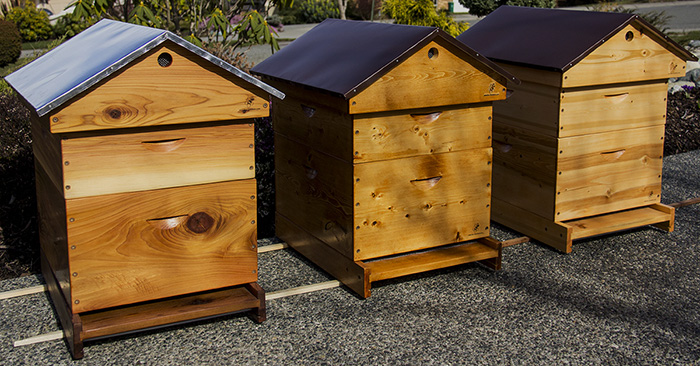 From left to right: Cedar kit with silver roof; Pine kit in Medium-Brown finish and brown roof; Pine kit in Golden finish with brown roof.
The first type of kit we ever built is still available today, although we have made a few improvements along the way. These kits are hand-crafted with the same care and attention as our cedar kits, but from locally-sourced, kiln-dried Pine and Spruce. We carefully select each board for straightness, tightness of grain, and we spend the time to ensure that there are lots of interesting grain characteristics that not only make strong equipment, but are aesthetically pleasing as well. New for the 2019 season, we are offering pine kits with a choice of finishes...

Our standard kit has always come hand-finished with your choice of medium-brown or light golden gel-stain, plus four coats of bee-friendly, non-toxic tung oil. The gel stain brings out the natural beauty of the wood grain, with the tung oil offering UV protection and general weather-proofing. These are available with the same roofing options as above (silver or brown), for $325 plus taxes.

New for 2019, we are offering a more budget-friendly option on our pine kits. We build the kit the same way as the above option, including hand-sanding. We then apply your choice of premium paint colours. Choose from any of our current colours, or let us improvise and create a fun multi-coloured effect by painting each piece a different colour! We include special accents that will create a fun, light-hearted look in your apiary. We generally select light colours such as greens, blues, purples, and pinks but we will choose different colours from time to time. A complete 5-piece starter kit, painted in your choice of available colour(s), is just $250 plus taxes!
http://www.Bee-Furniture.com

Nanaimo, BC Canada
Tel: (250) 802-3991
info@bee-furniture.com